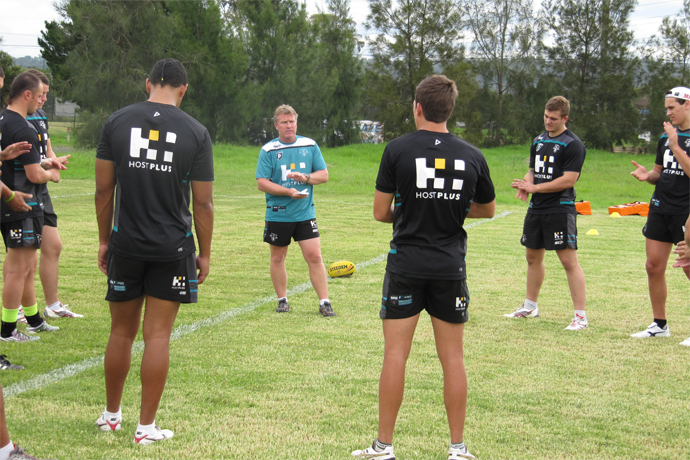 The players are ready ready. The coaches are ready ready. The fans are ready ready. Now all we need are the referees to pull out their whistles and blow us into one the most exciting, electrifying and highly contested Toyota Cup seasons in history.
The National Youth Competition (Toyota Cup) is now in its fifth year and is increasingly becoming the most popular platform for rising stars to enter the NRL.
Last year the Penrith Panthers debuted three Toyota Cup players into its first grade squad – halves Blake Austin and Harry Seijka and big man Sarafu Fatiaki – all proving they have the goods to mix it amongst the big boys of the NRL.
The 2011 Panthers Toyota Cup side went through a major rough patch in the first part of last season before finally getting their playing combinations right to grow in confidence in the second half of the year to make a real tilt at the post-season.
Unfortunately the talented youngsters missed the finals by the 'skin of their teeth' but showed enough grit, determination and skill to hopefully do wonders in 2012 and scare a few sides along the way.
Leading Penrith's side this year is former Newcastle Knights Toyota Cup coach Garth Brennan. Coach Brennan brings plenty of coaching experience to the role, including taking his former side to the finals in 2011.
Brennan said he's fitting in very well at his new club.
"I'm really enjoying it out here, it's a breath of fresh air," he said.
"I've coached in Newcastle my whole career, so it's good to be in a new environment looking after this exciting side," he said.
The recent pre-season trials involving the Panthers last month saw them draw with the Knights 24 – all and thrash the Parramatta Eels 30 – 12.
"I thought our performance against the Knights was poor but we improved dramatically against the Eels," Brennan said.
"We still have a long way to go and I think it's going to take a while for the players to get use to my style of play, it won't happen straight away but I can see they are continuously improving."
This Saturday night the Penrith Panthers do battle with the Canterbury-Bankstown Bulldogs at Centrebet Stadium in what's set to be an exciting opening round clash.
Brennan hopes his side can make Centrebet Stadium a place where rival sides fear to travel to.
"I want this (Centrebet Stadium) to be a fortress, I want to make visiting the foot of the mountains as difficult as possible for opposing teams," he said.
"Win or lose I want other teams to walk away from this place knowing they just had a tough battle."
Panthers v Bulldogs kicks off at 5.15pm this Saturday, March 3.