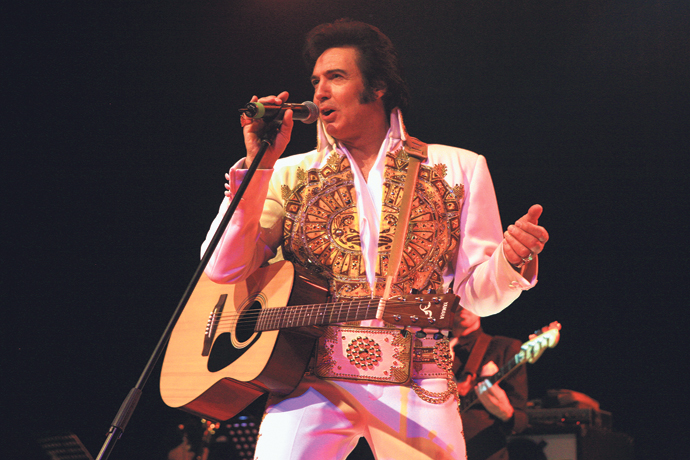 The memory and legend of the world's most popular performer lives on through the guise of Max Pellicano, whose uncanny resemblance and equally chilling performance has mesmerised Australian audiences for the last two decades.
Is it a wonder some people still refuse to believe that Elvis Presley is dead?
And now Max returns to Australia next month with a brand new musical spectacular: 'Follow That Dream – The Gospel According to Elvis'.
'Follow That Dream' is best described as a multi-media stage play that recounts the career and private life of Elvis Presley through song, storytelling and video.
The new musical follows Elvis after his passing – reflecting on an extraordinary life from humble beginnings in Tupelo, Mississippi, to a life of excess in Las Vegas.
The production uses visionary silhouette performance techniques and introduces the audience to those who helped shape Elvis into the King – from his parents, to Priscilla and from The Colonel to Sam Phillips at Sun Studios.
This theatre show has Max Pellicano cleverly telling the life story of Elvis with words, songs and silhouette actions behind screened panels on each side of him, plus an overhead video screen displaying phases of Elvis' life and appearances.
It is a must-see for any fan of the King or anyone who simply loved the music from that era, or grew up in a time when music meant something.
"We worked on this musical for about three months, but I was writing it for six. We had to rewrite it a few times before we came up with this interesting mix of multi-media," Max said.
"The thing that's is hard in the musical is that I don't portray Elvis as his character [on stage], I portray him as the human being that he was."
But Max Pellicano's tribute to Elvis goes beyond mere impersonation.
His recreation of the King's looks, moves, vocal style, impressions and humour is so accurate it's awe-inspiring to watch.
Max was born in Monte Carlo, of French and Italian parents.
He spent most of his childhood in New York before moving to San Francisco at the age of 14. Today, he is based in Detroit.
He has been a professional actor and entertainer since 1974 when he graduated from the California State University with a degree in Dramatic Arts.
Max Pellicano first brought Elvis to life as an actor on stage in a production of 'Bye Bye Birdie'.
"I was doing musicals and theatre and had to study 'Jailhouse Rock' for my role as the Elvis-type character, Conrad Birdie. I studied the way he walked, the way he talked and the way he moved for months. I guess you could say I got into impersonating Elvis in a kind of round-about way," he said.
His performance led to an Elvis tribute show and the rest is history.
"I learnt long ago that the fans don't want the legend to die. They want to keep the memory going," Max said.
He still spends many hours in front of the television watching movies and listening to records.
"I watch a lot of old live concerts and it's actually kind of easy to study Elvis because I really enjoy watching his shows," he said.
Max stresses that he is an actor recreating a character and it is an illusion.
Some see it differently though – one of Max's strangest requests was when a couple in Los Angeles asked him to bless their child.
There are more than 6,000 professional Elvis impersonators in the world and countless amateurs.
"It's hard to copy the original, but what we try and do is recreate the Elvis concert and give people a chance to see what it might have been like to see Elvis perform live," Max said.
Max Pellicano has appeared in feature films, notably 'De Vinci's War', 'The Gangster Chronicles' and 'Sharon The Portrait Of A Mistress'.
He has performed with The Jordanaires, JD Sumner & The Stamps, the late George Burns, Dion, Helen Reddy, Little Anthony & The Imperials, Dolly Parton, The Coasters, Del Shannon, The Shirelles, Don Rickles and Davy Jones (of The Monkees fame).
But despite his wide-spanning genres of work, Max says his audiences out here in Australia will be pleasantly surprised with 'Follow That Dream' and what the new exciting show has to offer them.
"The nice thing about this performance is that audiences would never have seen me in a musical – it's really exciting to be working with this new project and I'm sure the audience will love it," he said.
'Follow That Dream – The Gospel According to Elvis' is jam packed with the music and history of the legend Elvis Presley.
Don't miss your chance to see Max Pellicano pay tribute to the King of Rock and Roll, complete with a live band and backing singers – a befitting tribute to a cultural icon.
You'll think you are seeing the real thing!
Max Pellicano performs in 'Follow That Dream – The Gospel According to Elvis' at the EVAN Theatre Penrith Panthers on Saturday, March 10. For booking phone 4720 5555 or visit www.penrith.panthers.com.au.