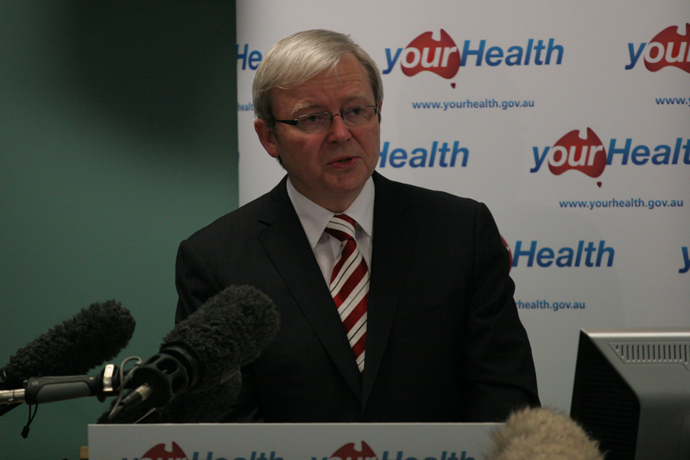 Kevin Rudd will challenge Julia Gillard for the Labor leadership on Monday.
Mr Rudd confirmed at a press conference this afternoon that he would seek the support of his party to return to the job he was dumped from in 2010.
"If we don't change, the Labor Party is going to end up in opposition," Mr Rudd said.
"We will all end up in the back bench, not just one, and the Opposition back bench at that."
It is known that Lindsay MP David Bradbury will support Ms Gillard on Monday.
Mr Bradbury produced a strong show of support to the Prime Minister during her visit to Our Lady of the Rosary Primary School this week.
In an incredible statement, he said he would rather get a tattoo devoted to Ms Gillard than have the media question his support in the event of a leadership challenge.
He lashed out at media reports that he is not 100 per cent committed to Ms Gillard and is "undecided" about where his support lies.
"I support Prime Minister Julia Gillard and in fact I think it would be fair to say that I am one of her strongest supporters but I read in the paper [on Tuesday] as I have over the past couple of days that I am someone on a list of so called 'undecided people'," he said.
"Both privately and publicly I have stated that I support the Prime Minister – she is doing a great job in difficult circumstances.
"Now I don't know what I have to do to go beyond that… if it means getting a tattoo I'd consider it but somehow I think my wife might object to that."
When asked whether he was worried about his own popularity in Lindsay given the leadership debate's destabilising effects, Mr Bradbury said there was no reason for the leadership challenge to take place.
"Disunity is death – that is a principle in political life and frankly there is no reason why there should not be complete unity behind the Prime Minister. I think she has the overwhelming support of her colleagues – in fact I am certain that that is the case," he said.
"As a government we need to do what Labor governments do and that is to reform education to deliver the services the people in our community want."
Ms Gillard refused to comment on Mr Bradbury's remark that "disunity is death" but reiterated that she wants to "get on with the job".
"My approach is, as I have outlined, to be very determined to get on with the job… Over the course of last year we delivered national changing reforms, not all of them popular or easy but reforms that will make a long term difference to the prosperity of this country and for opportunity within this country – that's my approach and my determination," Ms Gillard said.