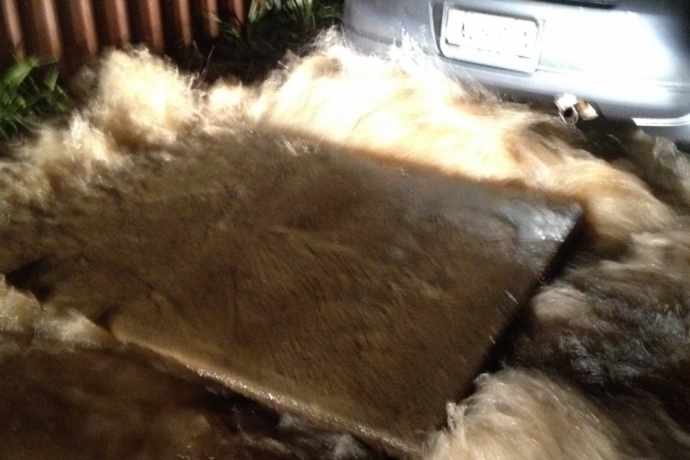 The damage bill from Thursday night's flood emergency in Penrith could be hundreds of thousands of dollars with reports of huge damage to houses and cars across the area.
The worst of the rain hit at about 8pm tonight, with roads flooded and locals forced to deal with an unbelievable downpour as they returned home from work and late night shopping.
The worst hit suburbs were Cranebrook, Castlereagh, Kingswood, Jamisontown and Werrington.
"I was driving through Penrith… you couldn't drive on some roads at all," one local said.
The roads surrounding Penrith RSL were blocked, forcing patrons to stay inside and wait out the storm.
There are reports that Mulgoa has lost power, caused by a tree that fell on power lines.
"Long night ahead… we need the electricity as my mum has a hospital air mattress… she has a medical condition," one Mulgoa resident said on the Weekender Facebook page.
At 11.30pm Thursday, the Great Western Highway at High Street – one of the city's busiest intersections – was still closed after police were initially on point duty due to the crisis.
The RMS is saying drivers should avoid The Northern Road at Llandilo, particularly around Seventh Avenue, due to flooding.
The deluge saw unbelievable conditons in the Penrith CBD.
Cranebrook Road between The Northern Road and Castlereagh Road remains closed.
On Twitter, Phil Harvey said: "What an incredible deluge in Penrith tonight. Roads flooded like I've never seen before."
Around 81mm of rain fell in Penrith between 6pm and 9pm.
Police warned motorists not to drive through flooded roads, and to drive to the conditions.
The Bureau of Meterology said a severe weather warning for flash flooding remained in place.
The bad weather will continue tomorrow and over the weekend, with predicted rain and storms on Friday and rain throughout Saturday and Sunday.
For emergency help in floods and storms, call the NSW SES on 132 500.
Send your photos ot [email protected]