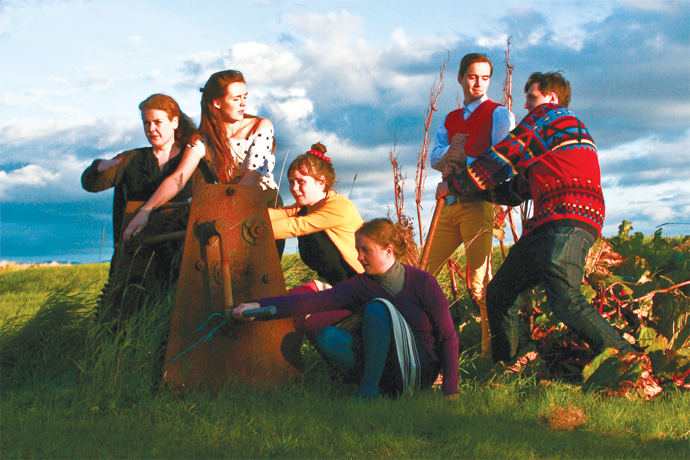 2012 is shaping up to be one of the biggest in the Joan Sutherland Performing Arts Centre's history largely thanks to their highly-regarded series of concerts which take place throughout the year.
The Joan recently released their schedule of concerts for the first six months of the year (January to June) which is filled with a gigantic array of talent from Australia, as well as internationally.
The Joan's Head Music Producer, Valda Silvy, said she loves to offer a programme that has plenty of diversity and is chock-full of artists that bring their own unique culture to the people of Penrith.
"When putting the concert season together we basically look at all the artists who are scheduled to come to Australia, whose first time it is in town and what would appeal to the general public," she said.
"We get offered so many concerts here at The Joan that we could have a concert every day of the week, so you have to make a balanced selection when programming."
The 2012 season kicked off last Friday night with a sell-out concert by Jamaica's and one of the world's living treasures, The Jolly Boys. But the Jamaican legends were just the start of the huge influx of international acts making their way to The Joan stage over the next six months.
On Friday, January 27, Sydney Festival and The Joan present Icelandic sensations Amiina (pictured above). Amiina perform beautiful ethereal music on a unique variety of instruments – most that they've put together themselves. From musical saws to kalimbas to music boxes and seemingly anything that could be plucked, bowed or beaten on.
"Amiina are from Iceland and you have to listen to their music because it's just so different," Ms Silvy said.
"It's hard to explain their music because they use all these wonderful instruments they put together themselves. Their music just ebbs and flows throughout and has this heavenly sort of feel to it.
"They are amazing performers and huge stars over in Iceland, so we're very pleased to have them at The Joan."
On Thursday, March 1, a Joan Sutherland Performing Arts Centre favourite returns to town with Katie Noonan and her three-piece band Elixir gracing the stage.
Katie Noonan is one of Australia's greatest singers and her band Elixir has now been together for an astonishing 14 years. The evening with Elixir will comprise of exquisite music that includes original compositions and notable covers of works by Joni Mitchell, Split Enz and many others.
"Having Elixir featuring Katie Noonan at The Joan is very exciting," Ms Silvy said.
"Katie has performed at The Joan many times over recent years and is always a drawcard because of the uniqueness of her voice."
Also that month on Friday, March 9, the world famous Eric Bibb performs at The Joan.
The son of 1960's folk singer Leon Bibb, the godson of singer/actor/activist Paul Robeson and the nephew of world famous jazz pianist and composer John Lewis (Modern Jazz Quartet), Eric Bibb grew up surrounded by a world of music with family and friends that included folk musician Peter Seeger and American jazz musician Odetta.
Over the last 10 years, the Grammy nominated artist has taken the world by storm with his own beautifully realised and cleverly accomplished fusion of soul, gospel and folk-blues, blending a traditional rootsy American style with a subtle contemporary sound.
Eric will be joined on stage by Swedish guitarist extraordinaire Staffan Astner and rising American folk singer Krystle Warren.
"Krystle's an up and coming folk singer from the US who has taken the world by storm," Ms Silvy said.
"When she performed at the Sydney Opera House for the Nick Drake tribute concert last year she received rave reviews."
On Wednesday, April 4, the London Klezmer Quartet makes their way to Australia for the first time and are set to dazzle audiences at The Joan.
This fabulous all-female quartet's deep understanding of the celebratory and soulful music of Eastern Europe is reflected in exuberant, passionate and accomplished performances of traditional and original Klezmer (Eastern European) music.
Towards the end of April, one of the world's most beloved singer/songwriters, Ralph McTell, performs on The Joan stage on Saturday, April 28.
Ralph's 1974 release of the iconic song 'Streets Of London' has been covered by more than 200 artists and earned him an Ivor Novello Award.
'Streets Of London' sold millions of copies around the world and has been performed by music legends such as Sinead O'Connor and Cliff Richard.
Ralph McTell is one of the great storytellers and a gifted songwriter and breathtaking guitarist who invites his audience into a unique world weaving narrative that is both significant and poignant.
"A lot of young people may not have heard of Ralph McTell but I myself was brought up on the 'Streets Of London' and it's very exciting to have the man himself performing his signature song at The Joan," Ms Silvy said.
On Saturday, May 26, direct from Italy, Luca Ciarla and his gypsy band perform at The Joan.
Ms Silvy said the people of Penrith have become very cultured over the last few years and are sure to enjoy the selection of local and overseas acts at The Joan in 2012.
For more information, visit www.jspac.com.au.