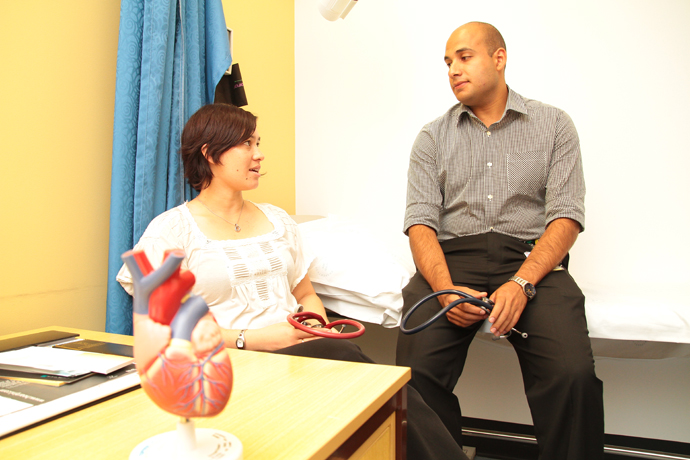 With the East Ward of Nepean Hospital opening in the coming weeks, there will be plenty of room for the hospital's newest medical recruits.
A total of 47 medical graduates have been accepted by the hospital as junior doctors.
Alfred Massaud and Sarah Turner, both Penrith locals, enjoyed their first days on the hospital floor on Monday, taking on the responsibility of looking after both patients and junior medical students.
Both Mr Massaud and Ms Turner completed all their medical training at the hospital through the University of Sydney's medical school.
"It has made it a lot easier completing our placements and now training at the one hospital," Ms Turner said.
"It has been fantastic because we already know the staff and how the hospital operates so it has made adjustment smooth."
Mr Massaud said the number of junior doctors joining Nepean Hospital this year was encouraging.
"Nepean Hospital is not always the first preference of medical students because it can mean longer travel times but the students here always appreciate the training because there are more opportunities, and more one on one training than you can receive at city hospitals," he said.
Both junior doctors are planning on spending their junior years at Nepean Hospital and are happy to be working in their local community.
"Being able to teach and mentor other students is one of my reasons for wanting to stay," Ms Turner said.
Director of Medical Administration, Nicola Ward, said it was wonderful to see such a large intake of new doctors, when just over a decade ago there would have been less than 10 interns per year.
"There is a lot of activity at the hospital with the extensions taking place so we certainly can justify taking on more doctors," she said.
Health Minister, Jillian Skinner, was pleased with the number of doctors starting work at Nepean and across New South Wales.
"I am very pleased to reiterate that every NSW university medical graduate who applied for an intern position in NSW received an offer, which is fantastic for the future of our health system," Ms Skinner said.