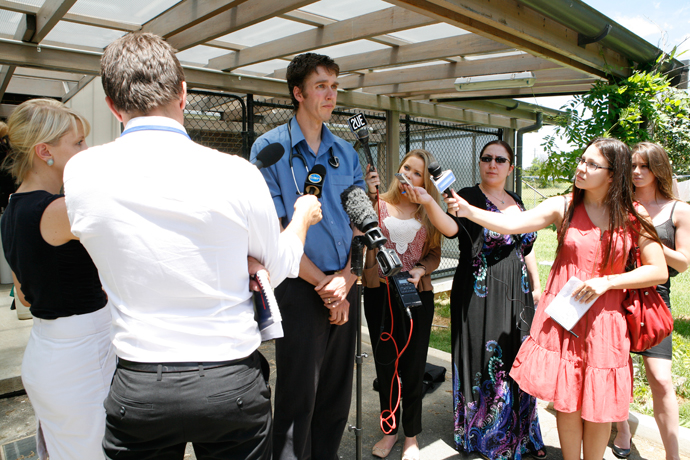 Salvatore Iogha and his family are appealing to the public for help after their family dog was attacked by a teenager armed with a shovel handle on Saturday morning.
Mr Iogha, his partner Courtney Blair, 28, and son Joel Blair, 8, were devastated when their three-year-old Jack Russell Cavalier-cross called Penny was bashed just outside their Kemps Creek home in Herbert Street.
"My partner and I were at the front [of the house] having coffee and then Penny started barking so we got up. She ran to the front gate and she was barking at this boy running and he was carrying a sawn-down shovel handle," Mr Iogha said.
Penny ran to the median strip barking at the teenage boy.
Mr Iogha said he called Penny back but as she obeyed the boy struck her in the face with the wooden handle.
"I took chase with him but lost puff and returned home," he said.
"When she was running in [the front gate] there was blood running down her face and I knew she was hurt badly. I was really, really upset and angry. She was yelping and woke up the neighbours because she was yelping in pain so much."
Mr Iogha is urging the teenager to come forward.
He was described to investigators as being aged 16 to 17-years-old of Mediterranean or Middle Eastern appearance and last seen wearing a white shirt and blue shorts with a yellow stripe.
"He should come forward because he is only going to make it worse for himself later on," he said.
Mr Iogha said that Penny was not an aggressive dog and that many people would bend down and pat her as they walked passed the property.
Dr mark Westman of the Animal League Welfare Veterinary in Kemps Creek treated Penny but said that it would take two months and possibly three surgeries to have her back to normal.
"When Penny was brought to us she was bleeding from her face. We gave her a general anaesthetic so we could examine her jaw," he said.
An x-ray showed that her jaw was completely fractured on the left side and that one of her canine teeth had been snapped off.
She was referred to a specialist canine dentist on Monday afternoon and is wearing a wire to temporarily keep the fracture in place.
"It is very sad and shocking that a sweet dog like Penny has to go through this traumatic experience," said Dr Westman.
"I can't imagine how hard she must have been hit for that fracture to occur."
The incident follows a second case of animal cruelty in Kingswood over the Christmas period when on Boxing Day a 24-year-old Kingswood woman threw her Staffordshire puppy out the window of her unit, 15 metres above the ground.
The puppy was diagnosed with a broken leg and broken teeth but has found a new home with St George Rugby League player Graeme Langlands.