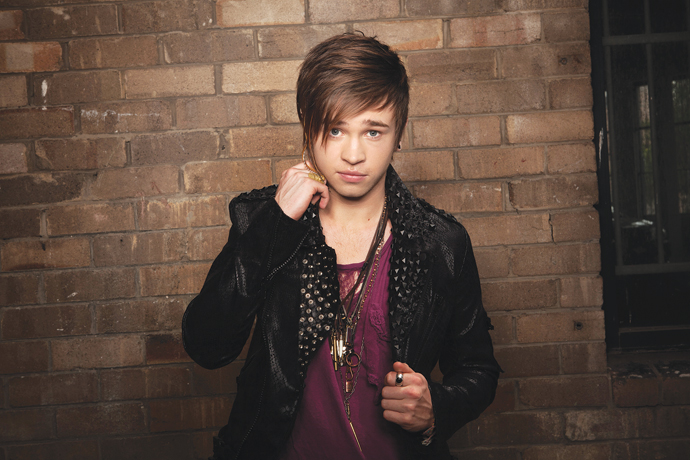 This is the face of a kid who's going to have one very happy Christmas. At just 17-years-old, 2011 'X Factor' winner Reece Mastin is currently the Australian music industry's hottest property and also probably the busiest.
In just a little over three weeks, the Adelaide teenager won Australia's highest rating singing contest, signed a contract with Sony Music, released a number one single, filmed his first music clip, strolled the red carpet at the ARIAs, recorded his debut album and celebrated his 17th birthday.
"It's been a full-on three weeks and I haven't really had a breather yet," Reece told FYI.
"But in saying that it's been so fun and I can't remember a time when I haven't had a smile on my face."
Reece said the release of his debut album, which features 11 studio versions of his best tracks performed on the show, has been a long time in the making.
"I've been waiting a long time to put this album out, since basically the start of the show, so it's great it's finally out there for people to buy," he said.
Just like after any television singing contest it's important for the winner to release an album as soon as possible in order to capitalise on the popularity the show has given them. Reece's album took just three days to record in what he describes as an extremely gruelling process.
"We had to get the album done in three days in order for it to come out early before my upcoming tour started," Reece said.
"Most of the songs I sung on the show were high-energy rock songs, which meant I had to belt out every song. I was definitely straining and putting a lot of pressure on my voice but I pulled through and the songs I recorded sound great."
One of the tracks on the album is Reece's debut single 'Good Night', which rocketed to number one on the Aussie charts just hours after he was crowned winner. 'Good Night' was so popular fans were purchasing the song every 2.7 seconds, turning the hot pop/rock track into a Gold record (35 000 units sold) in just two days of release.
What was even more amazing was his 'X Factor' mentor Guy Sebastian had the number two song on the charts at the same time with 'Don't Worry Be Happy'. Reece said he wouldn't have gotten so far in the contest if it wasn't for his mentor, Guy.
"Guy (Sebastian) is amazing and I owe most of my time on the show to him," he said.
"He helped me with a lot of things and made me a better musician tenfold."
Reece had plenty of highlights throughout his 'X Factor' journey including weekly standing ovations, utter praise from judges Ronan Keating, Natalie Bassingthwaighte and former Spice Girl Mel B and even had the opportunity to perform a duet on finale night with none other than Australia's highest selling artist Kylie Minogue.
"Kylie (Minogue) was amazing and it was an honour to get to sing with her," Reece said.
"I was very nervous when we first met but she made it very comfortable because she was such a nice person."
Born in the UK, Reece and his family relocated to South Australia nearly seven years ago with the aim of seeking better opportunities and living a more comfortable lifestyle. Whilst he admits he wasn't the best student in the classroom, Reece did indeed have an interest in music which was ignited even further by his school music teacher Mr Elsey.
"Mr Elsey is a great man and he just taught me so much about music," Reece said.
"Mr Elsey didn't just teach me about the theory behind music but some of the great things that have come from it as well. He really sparked up a bigger passion in music than I'd ever had before."
Unfortunately for Reece and his beloved teacher they'll be without each other next year as Reece plans to finish the final year of his education on the road. Reece said the decision to leave school and study out of a tour van wasn't a hard one to make.
"It wasn't really that hard because if I had gone back to school it wouldn't have been very easy to learn because I would've been hounded all the time," he said.
Reece won't only be leaving behind his teacher but also his friends, and if it wasn't for them convincing him to attend 'The X Factor' auditions to get the day off school, he may not be where he is today.
"The reason we came out to audition for the show in Adelaide was for a bit of a laugh and because a few of the boys wanted a day off school," Reece said.
"My friends now keep telling me the reason I won was because they told me to go down to the auditions."
Next year is set to be a big and busy year for the teenager as he prepares to go on a national tour, head back home to crack the big UK music market and write and release his own album of originals.
"I've been writing my own music since I was 12 and I've got a lot of originals ready to go for my next album," Reece said.
Reece said it didn't bother him that 2010 'X Factor' winner Altiyan Childs still hasn't released his own album of original material more than a year after winning the Channel Seven series.