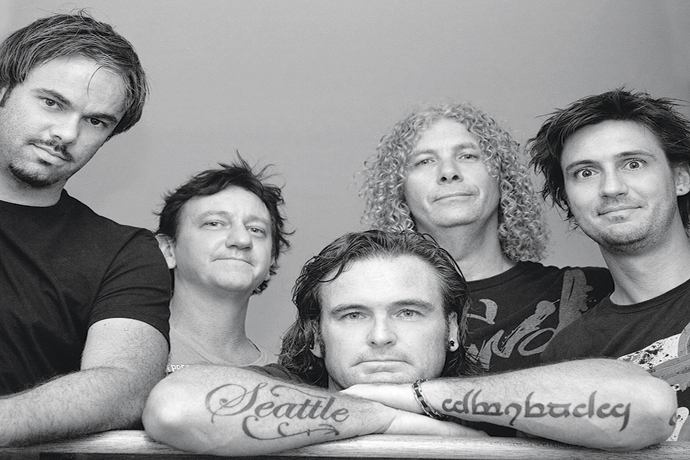 One of the Sydney's hottest and most experienced live bands, Seattle Sound, are back to send off the year in a huge way when they rock out the Penrith RSL tonight, December 16.
Beginning in 1996, Sydney's number one cover band formed at the height of the grunge music era. Bands like Nirvana, Alice In Chains, Soundgarden and Pearl Jam were taking the world by storm, selling millions of albums across the globe and creating anthems for a generation. Interestingly, these bands all came out of one place – Seattle, Washington, USA.
Back in the early days of Seattle Sound their playlists were flooded with the popular hits of those Seattle-based bands. Over time they've had to update, adapt and develop with people's changing tastes in music.
"We originally started doing Seattle sound music but now it's not really like that," lead singer, John Perry said.
"It started off with Pearl Jam and when Nirvana broke big 15 years ago, but from then on it's evolved into a lot of other things. We've changed a lot in 16 years and some of those songs and artists we did before just don't really work now."
John said over the years the band have had to update their playlists largely due to the rather youthful crowds they play to at some of Sydney's most popular nightspots.
"If we were to go to a popular venue these days and play 'Spoonman' by Soundgarden or 'Even Flow' by Pearl Jam, it's basically blank faces," he said.
"A lot of this Seattle area music we started doing 16 years ago and some of these 20-year-old's in the crowd would've been five at the time when these bands were big.
"So now in a two-hour show we'll do two sets that include music by the Goo Goo Dolls, Matchbox 20, U2, Green Day, Kings Of Leon, Foo Fighters and the Red Hot Chilli Peppers."
Seattle Sound has performed at a countless number of venues in the Sydney area over the years but a local stage here in Penrith is among the band's favourites.
"Every time we play at the Penrith RSL we have an awesome time and I'm not just saying that," John said.
"We have a really good time at the RSL because at the Showroom we play in there's nothing else in that room except for the band.
"We go to other venues and the management will turn around and say to us 'that's a great crowd tonight' but you can still get a lot of people at the venue that don't really care about the band. However, the RSL gives you a really good gauge on how strong the band really is."
Seattle Sound return to one of their most-loved venues on Friday, December 16 at 8pm.