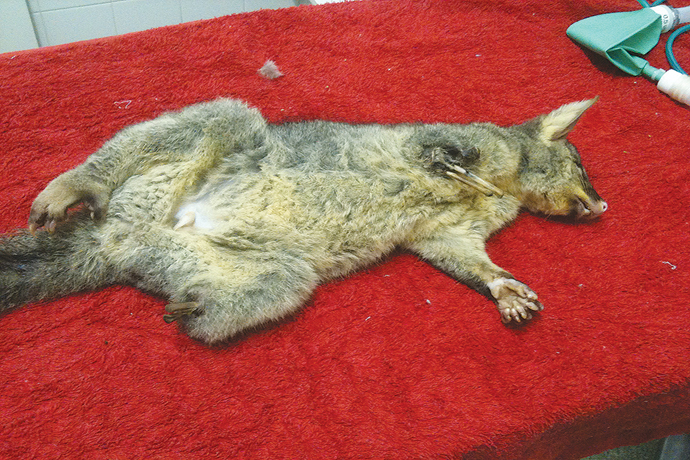 A local wildlife rescuer said she encountered the worst incident of animal cruelty she has ever seen when she rescued a possum in the local area recently.
Kathryn McKay a veterinary nurse and WIRES volunteer was called to a home on Brougham Street in Emu Plains on Tuesday, December 6 where she found a severely injured possum.
The juvenile male Brushtail Possum had been trapped by the owner of the home under a washing basket.
When Kathryn examined the month old possum he appeared to have several broken bones, however it wasn't until she got him back to the surgery that the severity of his injuries was realised.
The young possum was missing half his front right arm and his back left leg. The bones and muscles were exposed on both limbs.
His injuries were too severe for him to be rehabilitated and released back into the wild so unfortunately he had to be euthanised.
He was examined at South Penrith Veterinary Clinic after he was rescued. Three different veterinarians concluded his injuries were caused by some sort of trap.
"I have found the whole thing really upsetting, these traps are illegal and hefty fines can occur for those who use them," Kathryn said.
"We understand people can find possums to be pests but it is about living in harmony with animals especially when you live in the bush.
"If you are going to live in the mountains or the surrounding areas it is important to understand the wildlife."
If you have any information on this incident or would like to inquire about help with native wildlife please contact WIRES on 1300 094 737.