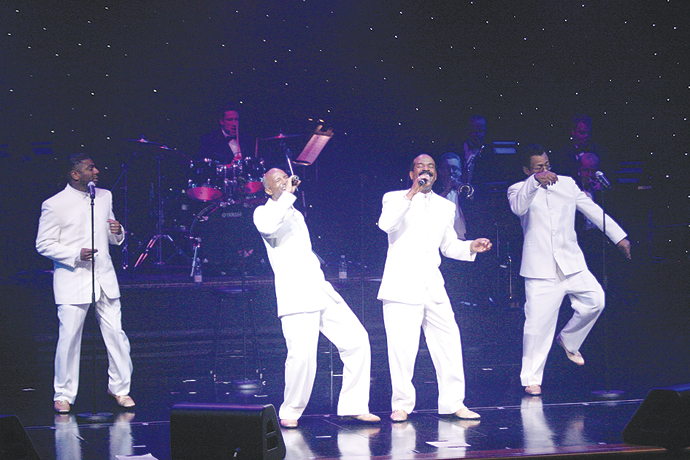 Motown originally began as a record label in Detroit more than 50 years ago and played an important role in the racial integration of popular music.
Throughout the 1960s, Motown and its soul-based subsidiaries were the most successful proponents of what came to be known as 'The Motown Sound', a style of soul music with a distinct pop influence.
Next Saturday, December 17, you're invited to Rooty Hill RSL to take a journey through the legendary Motown era with acclaimed show 'Reach Out' starring award-winning group Spectrum.
This authentic tribute, direct from the USA, takes the audience through the history of Motown and pays homage to some of the biggest names including the Temptations, the Four Tops, the Miracles and Marvin Gaye.
Spectrum are highly engaging guys who draw upon the talent of their four radiant voices and diverse personalities to form a first class vocal quartet.
After spending six stellar years recreating the sound and style of the Four Tops in Las Vegas' multi-million dollar production shows 'American Superstars' and 'Legends In Concert', the group has developed the versatility to credibly cover the music of groups from the Platters to the Temptations to Boyz II Men.
It is this versatility that has propelled them to the status of headlining their own shows in which they perform stirring renditions of all the best cover tunes.
Spectrum's credits included European tours, a Doo-Wop to Soul Review at the Hollywood Palladium, as well as performances with over 40 symphony orchestras throughout North America.
Their award-winning show ran for four years straight on the Las Vegas Strip and in that time was voted Best of Las Vegas in 2005 and 2006.
In 2009 they were selected to receive the Vegas Entertainment Consumer's Living Legends Award for Excellence in Entertainment.
Spectrum boasts four incredible singers, each with the voice of a solo artist. They combine their voices and dexterity to create the angelic harmonies and deft choreography that have become trademarks of the group.
The members of Spectrum consist of master recording artist Darryl Grant of Oakland, California, Chicago-born musician and versatile entertainer Pierre Jovan, David Presscott the silky-smooth, soaring-voiced first tenor from Rochester, New York and lastly, singer, actor and group founder Cushney Roberts from New Jersey, who left the life of a Princeton-educated corporate engineer to cut his teeth in the casino lounges en route to becoming a well-respected Las Vegas showroom entertainer.
Spectrum has a wealth of experience to entertain any crowd, anywhere in the world!
'Reach Out – A Journey Through Motown' starring Spectrum entertains crowds at the Rooty Hill RSL next Saturday, December 17 at 8pm. Tickets are $26 for members and $31 for visitors.
To book or for more information call 9625 5500 or visit www.rootyhillrsl.com.au.