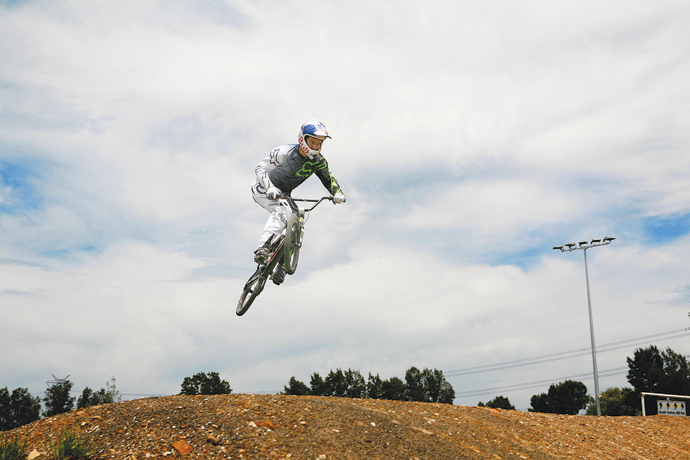 Local BMX champion, Luke Madill, was honoured this week by becoming BMX Australia's first active rider to be granted life membership of the sport.
Since his first ride at age three, Madill has been at the forefront of BMX racing and, to date, can boast countless national titles as well as being selected to represent Australia in the 2008 Beijing Olympic games inaugural inclusion of BMX.
Despite all of his success, Madill remained humbled and genuinely surprised by the sport's move to honour him.
"It definitely came as a shock. To be part of the actual national association is something that I consider to be a great honour," Madill said.
"I guess you look at some of the kids that look up to you, some of the families, but you never really notice that the head bodies of the sport are watching you."
Unfortunately, 2011 has seen Madill suffer a series of setbacks including a severe hip injury and a bout of Pneumonia.
Despite the inconveniences Madill remains determined to train harder than ever in preparation for the 2012 Australian Nationals being held at Mt Gambia, which, will mark his 27th year as a rider.
"Definitely looking forward to the Australian races. I love racing here; you get a lot of support, so hopefully I can carry that on to the international scene," he said.
While the cyclist has his sights set on gold at Australian Nationals, Olympic selection for the 2012 London games remains a priority.
"My first few races next year are Australia based before we head overseas, then I look forward to the International World cup rounds; where pretty much all the Olympic selection is based, " he said.
Training and preparations for next year have taken up most of Madill's time, but he strives to host coaching clinics across Australia for younger riders.
"It's something that I've been trying to do across the last decade but I've been doing a lot more of in the last couple of years since Beijing," he said.
"If I can do the same thing and hopefully get a few of these younger guys where I've been able to get then it's a great thing"
"BMX is something I see a big future for and I'd love to try and contribute more back into the sport".