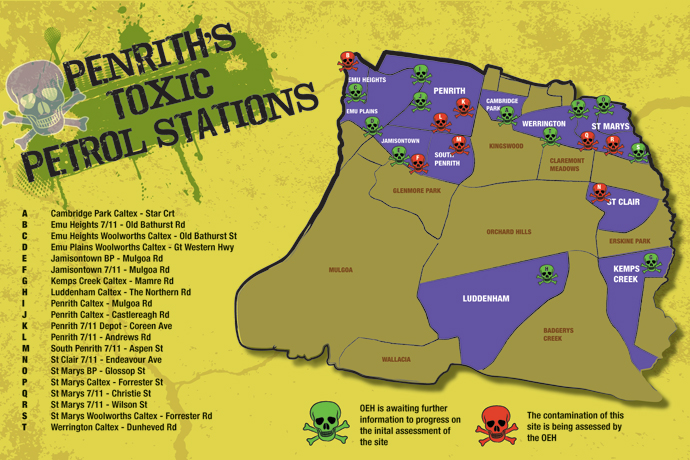 Cars have been rolling off production lines since 1914, but it seems nearly 100 years of practice has not been enough for petrol companies to hone their refuelling services.
The NSW Office of Environment and Heritage (OEH) is currently investigating 20 petrol stations in the Penrith area for chemical contaminations.
The petrol retailers have been named on the OEH's public list of contaminated sites.
A spokeswoman for the OEH said when it comes to contaminated lands from industrial usage, petrol stations are of great concern because they comprise approximately 30 per cent of all contaminated sites in NSW.
"Petrol leaking from old or decayed fuel tanks is a concern for OEH, especially if they go unchecked and cause environmental damage, impact on neighbouring properties and create expensive cleanups operations," she said.
The OEH is collecting information on the 20 Penrith sites to determine what remediation action may need to be taken if contamination is severe.
Currently, the Ampol Service Station on the Great Western Highway at Colyton is being rehabilitated after concentrations of petroleum hydrocarbons were found in groundwater at the site. There was also offsite migration of petrol hydrocarbons through groundwater flows.
Eight of the OEH listed retailers belong to Seven Eleven (who purchased Mobil's retail sector last year) and 10 are Caltex and Caltex-Woolworths petrol stations.
Both Mobil and Caltex said they had notified the OEH of the sites due to changes in the Contaminated Lands Act that came into effect in 2009 and were acting under legal advice.
"We have no reason to believe the majority of these sites are contaminated, but… clearly there is "potential" for contamination to occur at any operating service station," a spokesperson for Mobil said.
Caltex said listing their retail sites was a precautionary move as: "the threshold for any contamination at these sites is very low and there are criminal sanctions".
Both Mobil and Caltex denied that the move to place their petrol stations on the OEH contaminated list indicated that they did not have full confidence in current environmental safety practices.