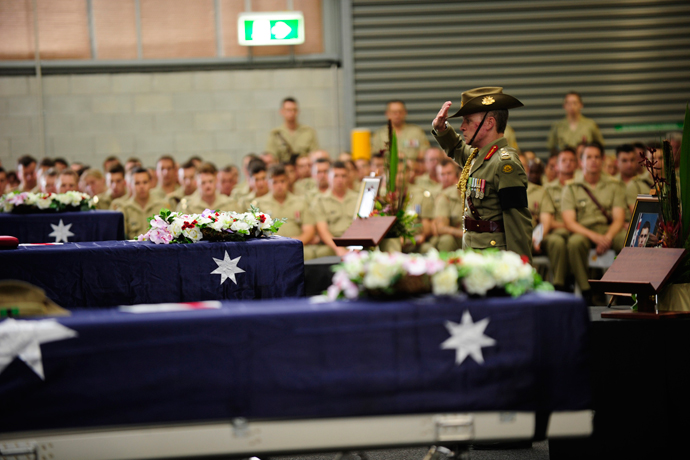 Penrith City Council paused for a minute's silence tonight as a mark of respect to fallen soldier Lance Corporal Luke Gavin.
The Lance Corporal's body returned to Australia last Sunday, alongside the two other soldiers who were killed whilst serving in Afghanistan on October 29.
"At only 29 years of age the death of St Clair resident Lance Corporal Gavin is a tragic loss to his friends, loved ones, our community and to his country," said Penrith City Mayor, Greg Davies.
"On behalf of our community, Council would like to extend our sincere condolences to his family and friends, especially his wife Jacky and three children, Joshua, Holly and Olivia."
Soldiers from the 4th Field Regiment Royal Australian Artillery, 1st Topographical Survey Squadron and 2nd Battalion Royal Australian Regiment formed an honour guard and bearer party to receive and carry the three caskets from the RAAF aircraft.
Mrs Gavin said Luke was an amazing man, husband, father, solider, son and brother.
"He always did the best thing for his family; he loved his country and truly believed that what Australia was doing in Afghanistan was a worthy cause," Mrs Gavin said.
"Luke and our kids were my life. I'm not sure how to live a life without him in it. We are all so extremely proud of him. He died doing what he loved and what he believed in.
"We will never forget him. We love him now, always and forever and he will live on through our beautiful children."
Councillor Davies said Lance Corporal Gavin was a true local and part of the fabric of our Penrith City community.
"He loved his sport and played for both the St Clair Junior Rugby League Club and the Penrith Basketball Association," he said.
"Lance Corporal Gavin's courage and professionalism will not be forgotten, nor will his contributions to our community and country."