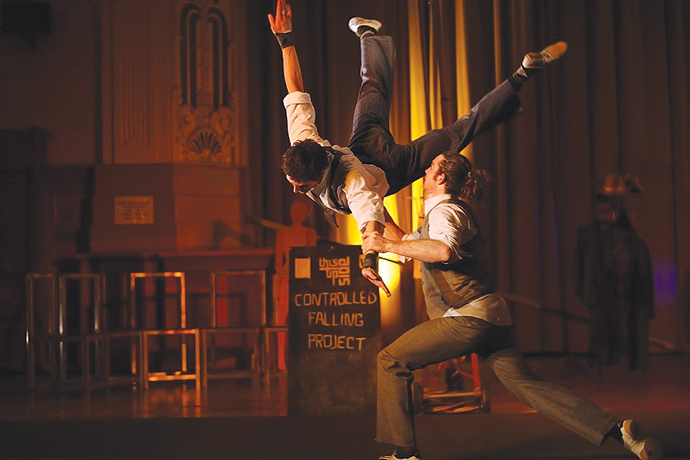 This Side Up Acrobatics' 'Controlled Falling Project' has thrilled local and international audiences with sell-out seasons and standing ovations across Australia, UK and Europe for years. And now the show they've a branded a "heart-stopping circus" is making its way to Penrith's Q Theatre.
These talented and gravity defying men will dazzle local audiences when they bring their acclaimed new show to the Q Theatre from November 23-26.
Enter a laboratory of acrobatic impossibilities, where old science meets heart-stopping circus. Set in a quirky old-fashioned laboratory, the acrobats are pushed to the extremes of their physical boundaries by a mysterious scientist and his curious instruments as they explore physics and challenge gravity.
Unnatural feats of gymnastic strength and muscular agility are incorporated with a bold exploratory approach to international circus disciplines such as the exhilarating Teeterboard (giant see-saw), the mesmerising Roue-Cyr (oversized steel hoop) and formidable Russian Bar (flexible beam), balancing and other acrobatic feats demonstrating their incredible skill and audacity.
This Side Up's extreme energy stunts are matched in intensity with gracefully choreographed moments, giving you little chance to draw breath during this captivating show.
Critics from all over the globe have expressed nothing but glowing reviews for the 'Controlled Falling Project'.
The British Theatre Guide said: "Magnificent… brilliant… five star".
The Scotsman said: "Stunning… graceful… unique, inspiring".
The Age said: "The Mythbusters of the arts world" and the London Evening Standard said: "Truly entertaining… spectacular feats… poetry in motion".
Combining precision, timing and quirky characters in a production that bursts at the seams with physical skill, visual delight and spectacular feats, this is one show nobody should miss.
The 'Controlled Falling Project' will amaze audiences at the Q Theatre from Wednesday, November 23 through to Saturday, November 26 at 8pm. Tickets are $47 for adults, $42 for concessions and $20 for children under 16.
To book or for more information call 4723 7600 or visit www.jspac.com.au.