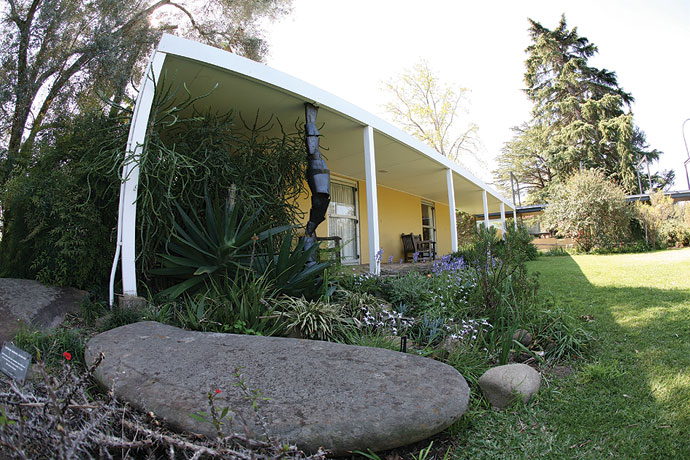 Penrith City Council has missed out on a "major opportunity" by discarding a nomination to list the Penrith Regional Gallery and The Lewers Bequest on the NSW State Heritage Register, according to Darani Lewers.
Ms Lewers – who is the daughter of the original property owners and well-known artists, Gerald and Margo Lewers – said she was disappointed by Council's decision made at an Ordinary Meeting on Monday night.
Penrith Councillors voted to advise the NSW Heritage Office that Council didn't see the need for the gallery to be heritage listed at this stage.
"There is potential for the site to be developed as a modernist environment, but to me, it's an opportunity that I feel Council didn't take and that saddens me," Ms Lewers said.
The gallery was officially opened in August 1981 after Ms Lewers and her sister, Tanya Crothers, gifted their parent's property, as well as a collection of paintings, sculptures and archived material, to Council in 1980.
A Penrith City Council spokeswoman said the gallery was already listed on the Local Heritage Register, and a state listing would only add an unnecessary layer of administration.
"There are also existing conservation and heritage plans of management in place to protect the property, including the gardens as well as maintain the heritage values of the site," she said.
Council set up the Penrith Performing and Visual Arts (PPVA) Board to manage the daily operations of the gallery on Council's behalf.
"Council, as well as the PPVA Board, take their responsibilities very seriously in relation to the heritage values of the Penrith Regional Gallery… including significant emphasis on the heritage aspects of the property and collection," a spokeswoman said.
In 2005 and 2007, the PPVA Board resolved to oppose the listing of the gallery on the State Heritage Register by stating that Council had control of protecting the heritage of the site.
But Ms Lewers, who grew up on the famous local property on River Road in Emu Plains, said a few years back there was support for state heritage recognition.
"There seems to have been a shift, I think it's because people are frightened that if it's listed they can't develop the site, but that is untrue," Ms Lewers said.
"Up until 2006, Tanya and I were on the board, and increasingly our opinions were not listened to. Finally the gallery was absorbed into a new structure that include The Joan [Sutherland Performing Arts Centre].
"Our requests to apply for the new board were denied – there seems to be little regard for our family or what we have to offer in terms of knowledge of the property."